A man on fire for God!
Wayman O Mitchell is the founder of Christian Fellowship Ministries aka, The Door, and Victory Chapel, is the senior pastor of the Potters House Christian Fellowship which comprises of about 1400 churches in over 100 countries. He has been a born again Christian since 1953, baptized in the Holy Ghost since 1954 and has been a Pentecostal pastor since 1960. Pr Mitchell conducts healing crusades, for which he has been likened to a modern day Smith Wigglesworth. Mitchell has preached in many churches in the United States and has also preached in Perth Western Australia where he was senior pastor for 3 years. The Potter's House church stems from an amazing revival that occurred in Mitchell's church in the early 70's.
Before Salvation
Wayman Mitchell was born in the Great Depression October 9, 1929 in Prescott, Arizona, where he and his wife Nelda currently reside. Pastor Mitchell was stationed on the Island of Guam between 1948-1952 for the U.S. military during the Korean war. While there, he was head supervisor of the maintenance shop. During this time he was promoted to Staff Sergeant and offered a candidacy at an officer training school. Many have concluded that Pastor Mitchell's style of Christian discipleship is strongly influenced by his former military training. After his military service he met Nelda Henderson at a dance in Phoenix in1952. They got married on Feb 7th 1953. Ten months after the birth of their first daughter, she suddenly died of cot death. During this time Mitchell was unemployed. Jobs were scarce and unemployment was widespread. This was the turning point in his life. George Mitchell, Wayman's brother had been saved at a foursquare church and invited the grieving couple to a church meeting. They both responded to an alter call and became born again Christians.
Baptism with the Holy Spirit
Pastor Mitchell is a Pentecostal who believes in all gifts of the Holy Spirit but has often been criticized for his strong stance against Charismatic emotionalism and extremes such as the Toronto Blessing, or the Pensacola Outpouring. Mitchell recalls when he was baptized with the Holy Spirit: "In 1954 I was in a denominational church (Foursquare), I had been saved only for a few months. I went and bowed at an alter and as I did someone put their hand upon me and as they did I heard a rushing mighty wind, I had no idea what was going on, I was filled with the Holy Ghost, I wept, I cried, snot ran down my face, this was the accelerant that changed my life, and the fire has never gone out hallelujah." (Prescott Conference 2004)
Bible School
Wayman went to L. I. F. E. Bible College in 1957-1960, where he completed his Pastorate. Mitchell felt that he was drained of spirituality during this time, and felt that the school focused on academics rather than zealous spirituality. He felt that bible school was a detour in his walk with Christ. In his own words; "Most of the students who go off to Bible School get their head full of homiletics and hermeneutics and are embalmed in denominational deadness. They leave school, not as powerful preachers of the Word, but as Christian educators. They are filled with knowledge and deader than a hammer. Then they wonder why they can't experience revival."
Previous Affiliation with Foursquare
Wayman Mitchell originally began his ministry under the affiliation of the Church of the Foursquare Gospel and continued this affiliation for many years until having a disagreement with this church's leaders concerning ordination requirements for new ministers. Wayman Mitchell believed that a new pastor should be trained through "discipleship" rather than any sort of higher education such as Bible College. Mitchell had sent some disciples to Bible College only to find that they came back robbed of spiritual life. Many of the people saved in his church were not academic types but were very zealous to obey God. By the mid-1980s Wayman Mitchell had a following of well over a hundred newly established churches, pastored by men who had been discipled under Wayman Mitchell. Many of these ministers were having great success and seeing many souls won to Christ, confirming to Mitchell that discipleship, rather than Bible School intellectualism was the most fruitful avenue for church growth. Because of these views Wayman Mitchell reluctantly gave up his affiliation with the Church of the Foursquare Gospel in 1985 and took up a practice under CFM (Christian Fellowship Ministries), the church he had established in Prescott. When Wayman Mitchell left the Church of the Foursquare Gospel most of his newer churches went with him and name "The Potter's House" was adopted.
Revival
In the Late 1960s a revival swept through the United States called the "Jesus People Movement." Many nominal churches rejected the hippies who were getting saved but Pastor Mitchell accepted them into his church and saw dramatic church growth. Being inspired by Chuck Smith, David Wilkerson and other ministers, Pastor Mitchell overlooked what the people looked like and smelt like, and saw the potential in each person to be strong Christians. Much of the leadership in the church today is made up of people who got saved in this movement.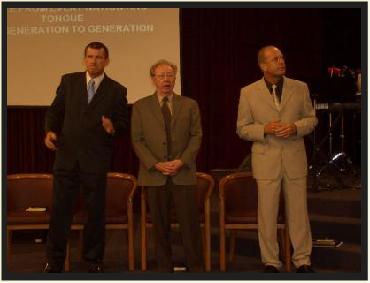 Mitchell's Personality
Wayman Mitchell is often invited to be a speaker at numerous international bible conferences held by CFM Churches across the globe. Pastor Mitchell preaches a style that is considered by critics as "old school" and often cuts across modern cultural trends to present biblical standards and doctrines. Mitchell's success in the past 35 years has been due to his focus upon three points: evangelism, discipleship, and church planting, aspects Mitchell feels are often neglected in modern churches. Mitchell believes that every believer has a personal responsibility to win souls into God's Kingdom. Mitchell also believes that a real "Christian" will be a disciple, i.e. a learner, as the word "Christian" appears three times in the scriptures whilst "disciple" appears almost 300 times.
| | |
| --- | --- |
| | |
Mitchell believes that the New Testament pattern for effective evangelism is to send out workers into cities and regions to start churches, while mass evangelism can be of some benefit; Mitchell concludes that at the end of the revival, crusade, etc. one must have a local church where they can grow and learn. Although many consider Mitchell and the Potter's House Fellowship as radical, they insist that they are following in the footsteps of other church movements such as the early Salvation Army, early Methodist movement, early AoG, early Elim etc. Mitchell is considered amongst CFM circles as an "apostle of the faith" and is revered as a great leader, much like William Booth of the Salvation Army, or John Wesley of the Methodists. The term "apostle" is not to be confused with the "12 Apostles" of Jesus Christ. It's not believed that he's the equivalent of the Apostles Paul, Peter, or John, or holds the same office, rather, he's regarded as a great leader of the churches under his authority who visits those churches to offer encouragement, instruction, and sometimes admonition and discipline when necessary. The Potter's House strongly adheres to the belief that the book of Acts has certain patterns and doctrines that are crucial for correct church practice.
The fire has never gone out
Wayman Mitchell continually travels the globe preaching in various nations. His tireless efforts to see the kingdom of God established have caused much appreciation and admiration amongst his fellow brethren. The Potter's House is still distinctly Pentecostal, with a strong thrust for evangelism.
Home | An Open Door | Healing Book | Blueprint From Heaven | Amazing Testimonies | Critics of the Potter's House | Links | Webmaster | Contact | Audio Sermons | Disclaimer
You can become a Christian today
Videos (new)